Tele-medicine issues in some aspects
A I Kornjukhin, K I Kozmina
The Urals scientific and production enterprise "Altaim"
Sverdlovsk' regional clinic psycho- neuralgic hospital for war' veterans,
Yekaterinburg, Russia
Up-to-date requirements to medical service structure within the large medical institutions serving the population across large territories, mean the modern administrative structures:
Stationary main medical centre
Distant medical services (ambulances, medical sanitary stations, doctors-on-a call) possessing mobile facilities of medical aid on their profiles for the distant located people;
Flexible communication facilities between all divisions.
This scheme is typical inside medical institution – there is relationships between branches and services, as well as for large medical centers and hospitals serving the population within a certain region.
Comprehensive meeting these requirements is possible only if flexible transmitting the vast information flows about patients is arranged between the main center and distant medical services.
Operative information transmission to the main medical centers for analysis and consultation from profile specialists with further transmitting back to distant stations, enables to bring nearer features and potential of the main medical center to distant services, therefore, to the patients. So, the status of ambulances rises up to status of mobile clinics.
It could be realized via up-to-date hardware and software within an existing communication network.
Automated receiving system, storage and data transmitting realized on a base of AWP "ROFES" for a family doctor / a physician / allows to flexibly interact among all services and divisions of modern medical institutions. Tele-Communication scheme implemented by "Altaim" is displayed on fig.1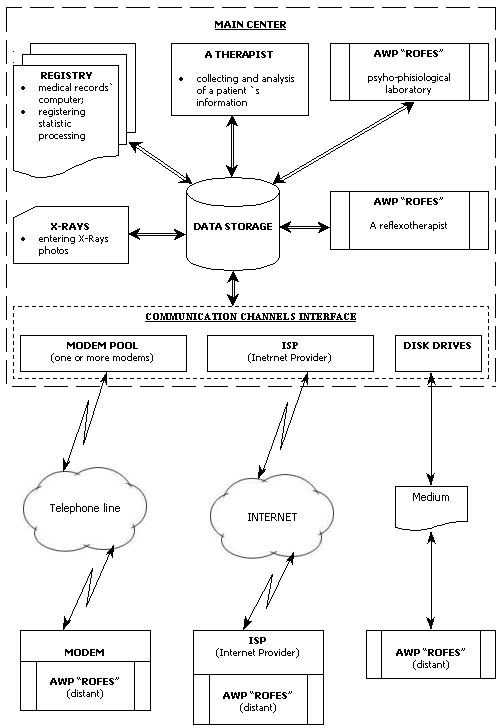 Fig.1. Tele-Communication scheme between a main center and distant AWP"ROFES"
Within inside the main center (medical institution) an access to united data storage is carried out by local communication network from several work places in many-users mode.
The main center possess features for information exchange with distant AWP using communication channel interface, supporting the channels of three types:
Direct connection through modem;
Connection via Internet ( while the main center has constant on-line connection with Internet, and clients – distant AWP "ROFES" – can use both on- line and terminated connection with Internet);
Transmission by mediums ( flexible of hard discs, ZIP- disks)
Information exchange can be provided in a session mode or teleconference mode.
Session mode means information transmitting by packages using affordable communication channels: direct modem connection; E-mail of FTP- protocol via Internet; by mediums. While the transmitted information volume can be evaluated as follows:
1000 screening diagnostics results with text description – 1Mbites
100 screening diagnostics results with text description, pictures of X-ray photos – 1Mbites
Teleconference mode provides consulting among specialists in real time scale using direct connection with the main center by modem or throughout Internet.
Described methods of organization of the work of ambulances with the further data processing in the main center are used in Sverdlovsk' regional clinic psycho- neuralgic war veterans hospital. The Ambulance of the medical psychological rehabilitation department is provided with the tool ROFES and notebook for testing of participants of Afghan' and Chechenia' war operations living in Sverdlovsk' region.
Tele-bridge between Novosibirsk' Center of family rehabilitation (Prof. Kaznacheeva, Chair of hospital pediatrics in Novosibirsk' s Medical Institute) and Central medical and sanitary station of the All- Russian Institute of technical physics possessing AWP ROFES to receive consults from the profile experts, is arranged by "Altaim" specialists.
The similar work places – AWP ROFES are possessed by:
Central regional hospital N2, Center of radiation medicine;
The Urals State Medical Academy, Chair of physiotherapy and reflexotherapy;
Center "Bonum"
Regional center of allergo-dermathoses, rehabilitation department;
Regional hospital "Lipovka"
At present, on the results of studying this aspect in Russia, an adoption of tele-medicine feature modules into practice of regional medical institutions is undertaken in Arkhangelsk' region, Althai. We consider that any delay on that line is unacceptable for our heavy industrial region. We have a suggestion to join efforts by regional medical institutions in the promotion of the up-to-date hardware and software telecommunication features that have been designed in Yekaterinburg and have getting Russian Standard Certificate and Licence of the Ministry of Health Care of RF.